Yuki



Name:

Yuki

Korean:

유키

Nationality:

Japanese

Status:

Deceased

Occupation:

Schoolgirl

Affiliation:

Actor:

Debut:

Death:
Yuki
is a young Japanese girl who befriends
Hyun-jun
and
Seung-hee
.
Kim Hyun-jun and Choi Seung-hee first call to Yuki as they try to find the hot springs during their getaway in Japan. She immediately develops a crush on Hyun-jun and soon finds herself waiting on them.
Six months later, Hyun-jun shows up on Yuki's doorstep, exhausted and injured. Yuki and her parents nurse him back to health
Vick takes Yuki hostage and uses her for leverage as he tries to get the USB drive from Hyun-jun.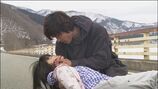 In Hyun-jun's attempt to rescue her, Yuki is shot by Vick in the crossfire. She dies in Hyun-jun's arms.
Ad blocker interference detected!
Wikia is a free-to-use site that makes money from advertising. We have a modified experience for viewers using ad blockers

Wikia is not accessible if you've made further modifications. Remove the custom ad blocker rule(s) and the page will load as expected.