Yoon Hye-in



Name:

Yoon Hye-in

Korean:

윤혜인

Codename

Yu-jin

Age:

25

Occupation :

Double Agent

Organization :

ATHENA

Spouse:

Lee Jung-woo

Debut

ATHENA Episode 1

Actor

Park Soo-ae

Yoon Hye-in(윤혜인) is antiheroine of ATHENA and love interest of Lee Jeong-woo and Son-Hyuk she portrayed by Soo-ae like Choi Seung-hee Hye-in was profiler. it relaved that Jung-woo discovered her real name was Yu-jin because Son-hyuk changed her name
Yoon Hye-in is a cold double agent working with the NTS in addition to spying on a secret organization. As a profiler in addition to being an undercover agent, she also becomes romantically involved with Lee Jeong-woo.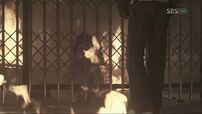 Yu-jin was born in Seoul to Korean American parents who moved Los Angels The Yoon Family had normal life
with USA until tragedy strikes when L.A Ritos kills her parents and Yu-jin was saved by fellow Korean American named
Son-hyuk
who was firefighter and begun grew each other as brothers and sisters and he renamed her as Hye-in after his deccsed mother
Releationships
Edit
she met Jung-woo three years before Hyun-jun and Seung-hee meet at NST

Son-hyuk was her boss and protester as she was little girl Son-Hyuk saved her life from LA Riots which killed her family.
Hye-in was Jae-hui's colleague in fact Jae-hui was Jung-woo's ex
When [Lee Jungwoo] called me Eugene, it felt like my heart stopped. It wasn't because my cover was blown. It was because it made me remember who I am, who I was, and what I had lost."
Both Park Soo-ae and Kim Tae-hee are neighbors in real life coincidentally Park was playing to Hye-in and Kim was played Choi Seung-hee
Both she and Kim Hyun-jun were oprhaned as children where Hye-in lost her parents in LA Riots and Hyun Jun lost his parents begin murdererd by Baek San
Ad blocker interference detected!
Wikia is a free-to-use site that makes money from advertising. We have a modified experience for viewers using ad blockers

Wikia is not accessible if you've made further modifications. Remove the custom ad blocker rule(s) and the page will load as expected.