Han Jae-hui



Name:

Han Jae-hui

Korean:

한재희

Age

28 at death

Occupation :

NST

Organization

NST

Family

Han Jung-pil (father)

Actor

Lee Ji-ah

Debut

ATHENA Episode 2
Han Jae-hui (한재희 ) is supported character of ATHENA and Jung-woo 's ex girlfriend also rival to Yoon Hye-in . she portrayed by Lee Ji-ah
A colleague of Yoon Hye-in, Han Jae-hui works with in the European branch of the NTS as a spy and develops relationships with her three corresponding male and female characters.
She was daughter of
Han Jung-pil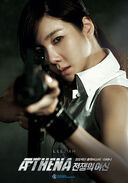 who was director of NST. When Jae-hui was still young her mother was killed by terrorists caused her father grieving and get revenge against the people who murdered his wife . She met
Lee Jung-woo
, her soon-be ex boyfriend
she speak English
Relationships
Edit
Jae-hui was drinking she met Son-hyuk at bar not knowing him as leader of ATHENA
Jung-woo was Jae-hui's ex-boyfriend they dated for three years but they break-up due her father's resufal
Hye-in was her colleague and now rival of Jung-woo's affections aslo Son-hyuk. both women are stuggled for love same man
Ad blocker interference detected!
Wikia is a free-to-use site that makes money from advertising. We have a modified experience for viewers using ad blockers

Wikia is not accessible if you've made further modifications. Remove the custom ad blocker rule(s) and the page will load as expected.